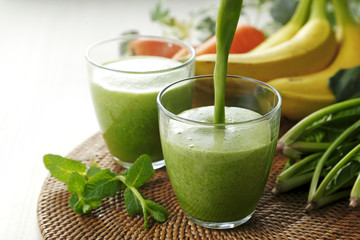 If you're looking for a healthy, tasty smoothie that will detoxify your body, try Detox Island Green at Tropical Smoothie Cafe. The Detox Island Green smoothie has a tropical twist thanks to fresh fruits that add natural sweetness. This green smoothie has many nutrients that will give you energy for hours.
Tropical Smoothie Café Detox Island Green Recipe
The Tropical Smoothie Café Detox Island Green Recipe is a delicious way to add some extra health and nutrition to your lifestyle. Packed full of vitamins, minerals, antioxidants, and anti-inflammatory properties, this smoothie is a great choice for those looking for a healthy and refreshing drink.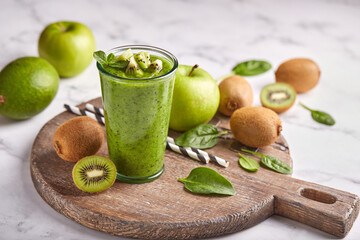 It contains a blend of kale, pineapple, mango, banana, cucumber, parsley, lemon, and spinach, all of which are known for their detoxifying powers. Plus, the addition of coconut water helps to replenish electrolytes and boost hydration. It's a great way to start your day or enjoy a healthy snack.
With its delicious and refreshing taste, the Tropical Smoothie Café Detox Island Green Recipe is a great choice for those looking to add some extra nutrition to their diet. Here is a list of ingredients you need to make your version of this detox smoothie:
Frozen banana

Mango

Pineapple

Spinach

Kale (You can use one or two leaves depending on how much you want to get rid of your toxins)

Ginger (About a teaspoon should be enough, but add more if you like the taste)

Milk (you can use a variety of milk, but many use almond milk because it's healthier and more delicious than cow's milk)
Asides from the fundamental ingredients in making a tropical smoothie café detox island green recipe, there are some other ingredients you can include to achieve your perfect taste or desire. You can consist of maca powder, flax seeds, collagen, and others for extra healthy nutrients.
Recipe Instructions
To make your own, you'll need to follow the instructions below:  
Clean all ingredients thoroughly in water
It is essential to clean all the ingredients thoroughly in the waterthe water. The ginger should be washed with a bristle brush, then cut into small pieces.
The kale should also be washed in water and then sliced into thin strips. Spinach should be soaked in water and then chopped into smaller pieces or torn apart with your hands into small chunks before adding it to your blender.
Pineapple should be cleaned thoroughly by peeling off the skin and chopping up any remaining chunks of fruit until they are small enough for your blender's blades to blend them easily. 
Blend all ingredients
There are several ways to do this, depending on what equipment you have on hand. If you are using a blender, add the greens and then pour in the rest of the ingredients. Blend until smooth or the desired consistency is reached.
If you are using a food processor, add your frozen bananas to break down faster for a super creamy texture. Add everything except for the milk and blend until smooth or the desired consistency is reached. If using an immersion blender, blend everything in your bowl.
You can add extra ingredients to reach your desired texture
You can also add extra ginger to give it more kick. Ginger is a natural anti-inflammatory and has been shown in some studies to help reduce nausea and stomach upset and even improve digestion. It has also been proposed that ginger could help reduce inflammation in joints and muscles. Other ingredients can also be included to either increase your quantity or improve the taste of your smoothie.
Add ice or water to get the perfect texture
To get the perfect smoothie texture, mix in a few ice cubes or a splash of water, depending on how thick you want your smoothie.
Are Detox Smoothies Good For You?
Detox smoothies are an effective means of maintaining a healthy diet while still enjoying the taste of tropical fruits. They are also an excellent option for weight loss because they allow you to fill up on fiber, protein, and healthy fats without adding too many carbs or sugar.
Here are some benefits of taking detox smoothies:
Healthy and delicious
The Tropical Smoothie Café Detox Island Green is a delicious way to detox your body, lose weight, and feel healthy. It is made from regular fruits and vegetables such as spinach and kale. These ingredients are all green vegetables that contain lots of nutrients, such as magnesium, vitamin C, and calcium. They also have omega-3 fatty acids, which help you lose weight and reduce inflammation.
Easy to make
This tropical smoothie is easy to make and will be ready in less than 15 minutes.
Add all ingredients to a blender. The easiest way to do this is by adding the liquid first, followed by the solids. Then, please give it a good whirl until everything is well combined. If you don't have a high-quality blender, feel free to add some ice or water at this point to get the perfect consistency for your taste buds. 
Has low-calorie density
Calorie density is the number of calories in a given weight of food. Calories from fat and protein are more calorie-dense than calories from carbohydrates. This means that the amount of calories you get from an ounce is low (0.01 cal/oz).
Rich in vitamins and minerals
This smoothie offers an excellent source of vitamins and minerals, including Vitamin C, which helps to prevent bone loss. It also plays a role in supporting healthy blood vessels, tissue healing, and maintaining your immune system. Vitamin K is essential for proper blood clotting because it activates enzymes involved in this process. It's critical if you're taking medications that thin your blood (anti-coagulants) and after surgery or dental work when your risk of clotting is increased.
Can I Store Tropical Smoothie Cafe Detox Island Green?
Yes. The smoothie is best stored in the fridge, which will keep for up to 48 hours. However, if you have leftovers and need to store them longer than that, place your Tropical Smoothie Cafe Detox Island Green in an airtight container and store it in the freezer for up to 1 month. To defrost, remove from the freezer 1-2 hours before consuming or place a frozen jar in warm water until soft enough to scoop out with a spoon.
Are Green Smoothies Good For Weight Loss?
Yes, green smoothies are good for weight loss. A green smoothie is a great way to lose weight because it's a healthy way of eating that will help you drop pounds fast. Green smoothies can help you lose weight fast because they're packed with nutrients and fiber that help keep you full so that you won't feel hungry during the day.
They also boost your metabolism by increasing blood flow and helping your digestive system function well. If you want to see results from drinking a green smoothie daily, try this Tropical Smoothie Cafe Detox Island Green Recipe regularly.
Conclusion
Next time you're craving a smoothie, try out this tropical smoothie cafe detox island green recipe and see if it helps you feel better. You can even make your version at home.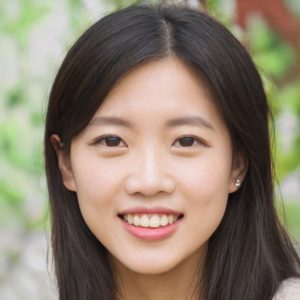 Hi, I'm Iolanda I am a mother of two and know how to whip up satisfying dishes for friends and family in a seemingly effortless way. The blog goal is reader-oriented, So We are always looking for the newest information about the best products on the market to offer product reviews and tutorials to assist users.Have Fun on The Website